ROWVA CUSD 208 is seeking a second Ag teacher for the 2023-2024 school year. Information can be found at
https://bit.ly/RowvaAg2023


Marching band, football, cheerleader and cross country seniors, please fill out the senior night questionnaire sent to you by Mr. Gullstrand. Your parents should arrive by 6:15 Friday night and meet in the south endzone. The ceremony begins at 6:30.

Tomorrow's (10/12) JH football game has been moved to Annawan at 5:30. The buses will leave both schools at 3:30 PM. The game on October 26th will now be in Oneida at 5:30. This is 8th grade night.

The RW volleyball team will play Stark County in the opening round of regionals held at Wethersfield.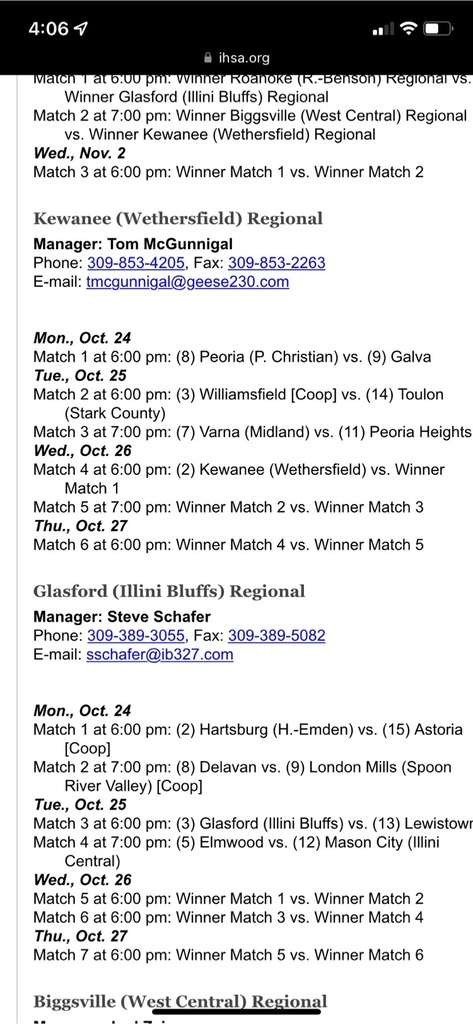 Great night in Oneida! Both JV volleyball teams and the varsity team beat West Central. The JH football team beat the LVC Miners 26-8. Go Cougars! #WeAreRW

Good luck, boys!

Good luck to RW volleyball tonight in Abingdon!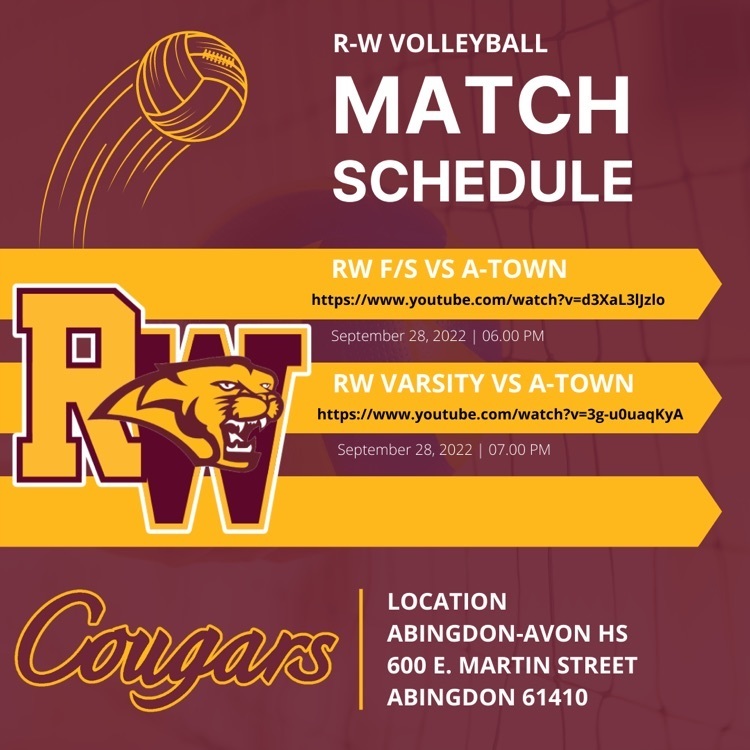 Cougars move to 2-0 on the season. Next up is Macomb in Oneida this Friday at 7:00.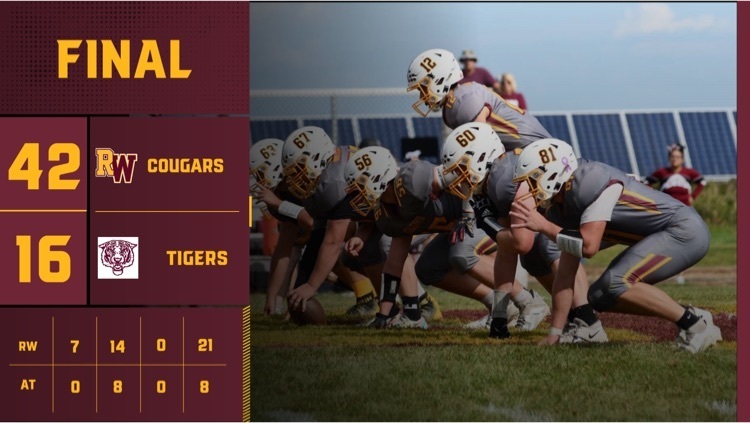 Results from golf and cross county on August 29. Go Cougars! #WeAreRW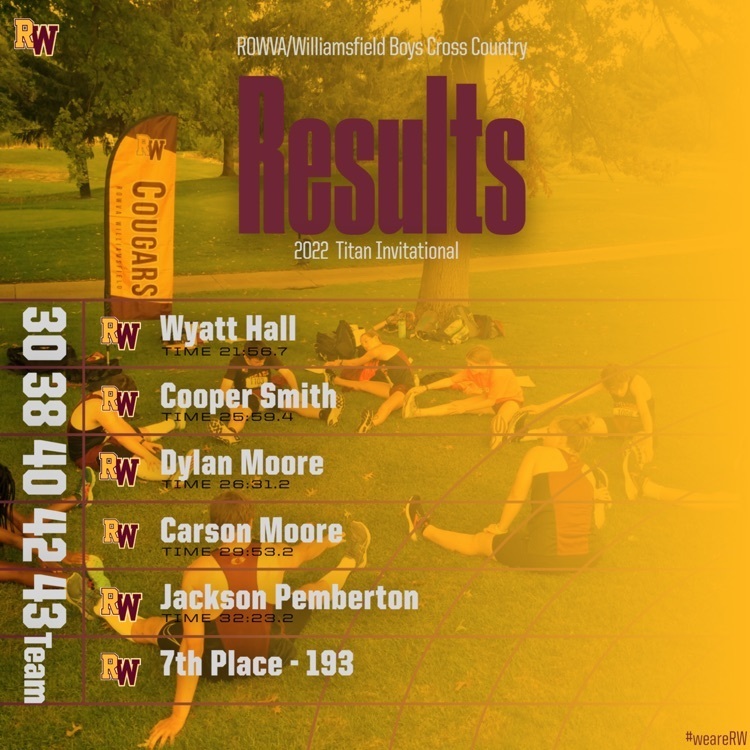 Shout to the RW volleyball team for winning their first two games of the week over Peoria Heights and Elmwood! They play at Delavan tonight. Both the freshman and JV teams are also undefeated so far on their seasons!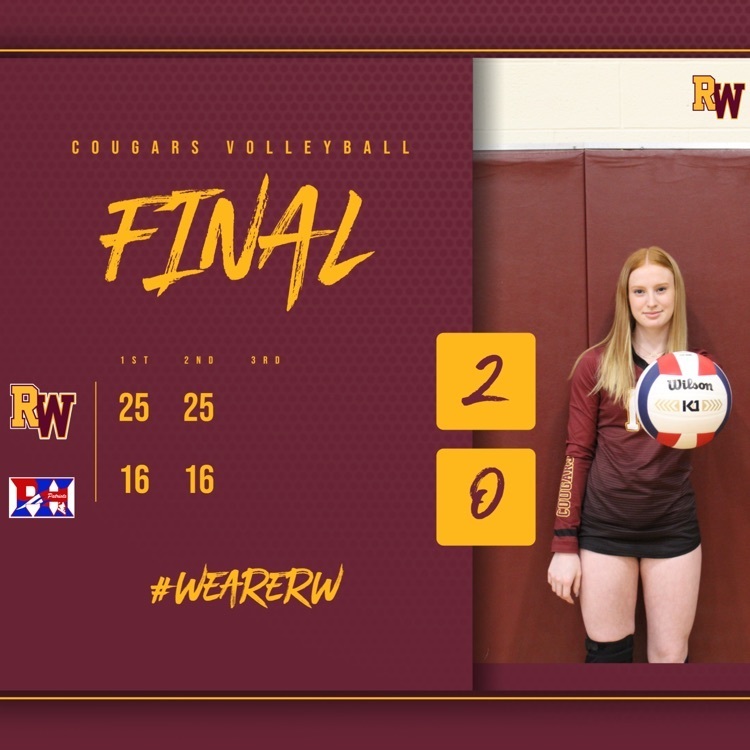 Good luck to Coach DeWitt, Coach Campagna and the XC team as they open their season today!

Big win last night to start the season for the football team. #WeAreRW

Results from golf at Canton yesterday.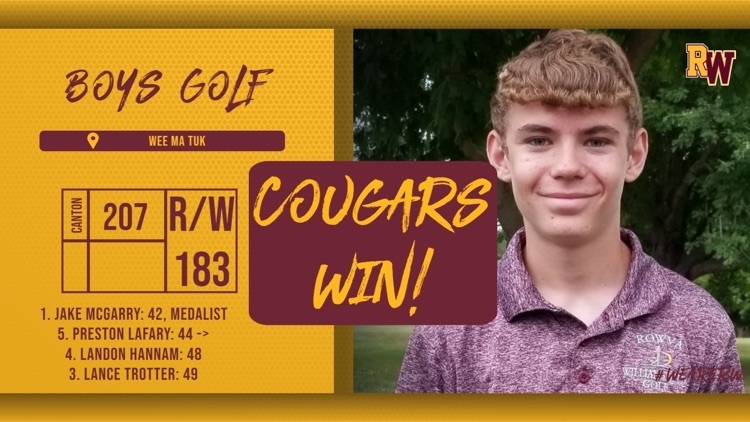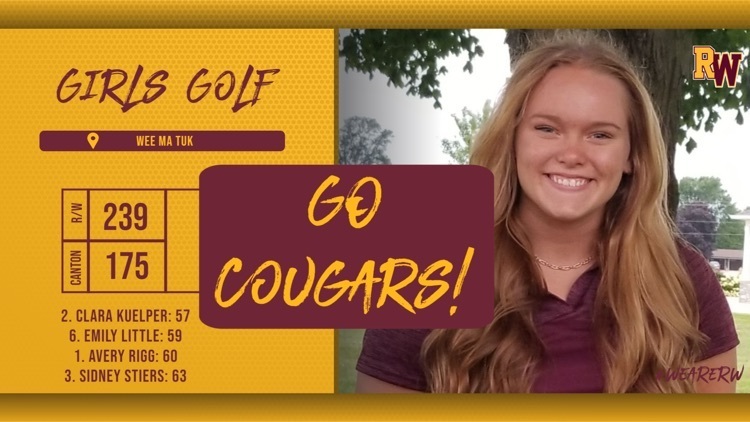 Attention RW JFL families: any RW JFL player that wears their jersey to any home football game this season will get in for free. Hope to see a lot of future Cougars in attendance! #WeAreRW
The breakfast menu for tomorrow has been changed to Biscuits and Sausage Gravy. We are still experiencing supply issues, so please make sure to check the menu each morning. It is posted on Teacherease and on the school website.

RW weekly golf schedule (B/G): Monday at Oak Run Wednesday at WeeMaTuk Thursday at Oak View RW volleyball weekly schedule: Monday @ Brimfield Wednesday vs North Fulton (Billtown) Thursday vs United (Billtown) RW football weekly schedule: Friday vs A-Town (Hall of Fame Night)

RW JH baseball weekly schedule: Monday at Ridgewood Wednesday at Galva Thursday vs United (Oneida) Saturday vs United- B Game (Oneida) RW JH softball: Monday at Galva Wednesday vs A/W (Billtown) Thursday vs Princeville (Billtown) Saturday vs Hollis (Billtown)

There will be a 50/50 raffle done tonight as well. Proceeds will go towards epilepsy awareness. The RW booster club will also have a table set up to purchase t shirts and hats as well as to sign up to become a member.