Varsity GBB make up dates/schedule changes: The varsity girls will play at Peoria Christian tomorrow at 7:30 PM. On Saturday, February 4th, they will travel to Peoria Heights, for a varsity only game. Time for that game is still to be determined. #WeAreRW

Upcoming events attached to sporting events: January 9th- 8th grade night for JH boys basketball and cheer (HS gym) January 9th- Girls basketball senior night in Williamsfield January 17th- Competition cheer performance between JV and Varsity boys basketball game January 26th- Last home wrestling match of the season February 10th- Staff appreciation night, football playoff banner ceremony at boys basketball game February 11th- Boys basketball/cheer senior night at Williamsfield February 16th- Jazz band senior night ROWVA at boys basketball game

Monday, January 9th is the girls basketball senior night game in Williamsfield. Come watch them play and get dinner made for you by the Billtown senior class!

We are going to honor the 2021 girls cross country sectional qualifying team at the girls basketball game Monday night against Annawan in Oneida. The ceremony will take place between the JV and varsity basketball games. Hope to see you there! #WeAreRW

Due to illnesses within the program, the HS girls basketball game for tonight has been postponed. No practice either. A make up date will be announced at a later time.

The boys game for Thursday night in Princeville has been moved up to tomorrow (Wednesday, December 21). The JV game will tip off at 5:00 PM.

Big day for RW athletics yesterday! The varsity girls basketball team defeated Bushnell in Oneida. The varsity boys traveled to Annawan and defeated the Braves. The girls wrestlers competed in Erie yesterday and the JV boys competed in Jacksonville. Results from Erie: Brooke Stickle and Ava Johnson 4th place Kory Dahms 3rd place DaLonna Buckley and Tori Kness 2nd place Patience Riggs first place In Jacksonville, Preston Schroeder, Noah Ponce and Chad Rickey all finished with fifth place finishes! The competition cheer team also earned a sixth place finish in Peoria. Their point total was another state qualifying performance! Congrats to all athletes and coaches. Go COUGS! #WeAreRW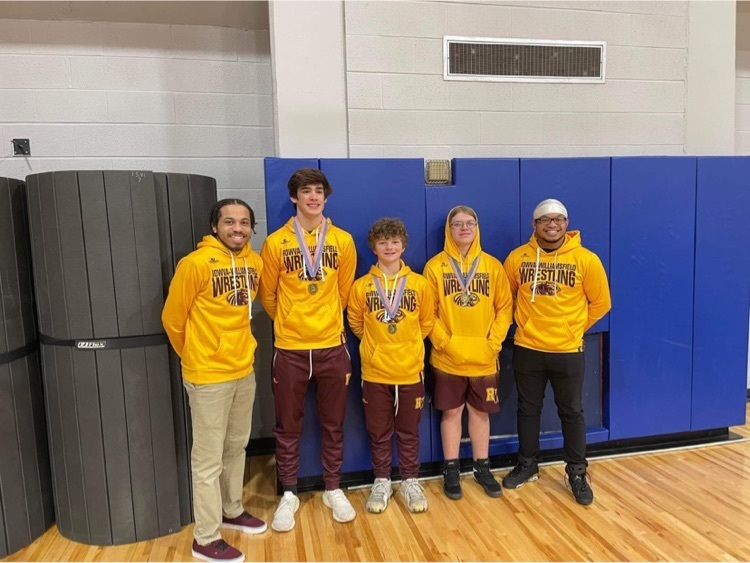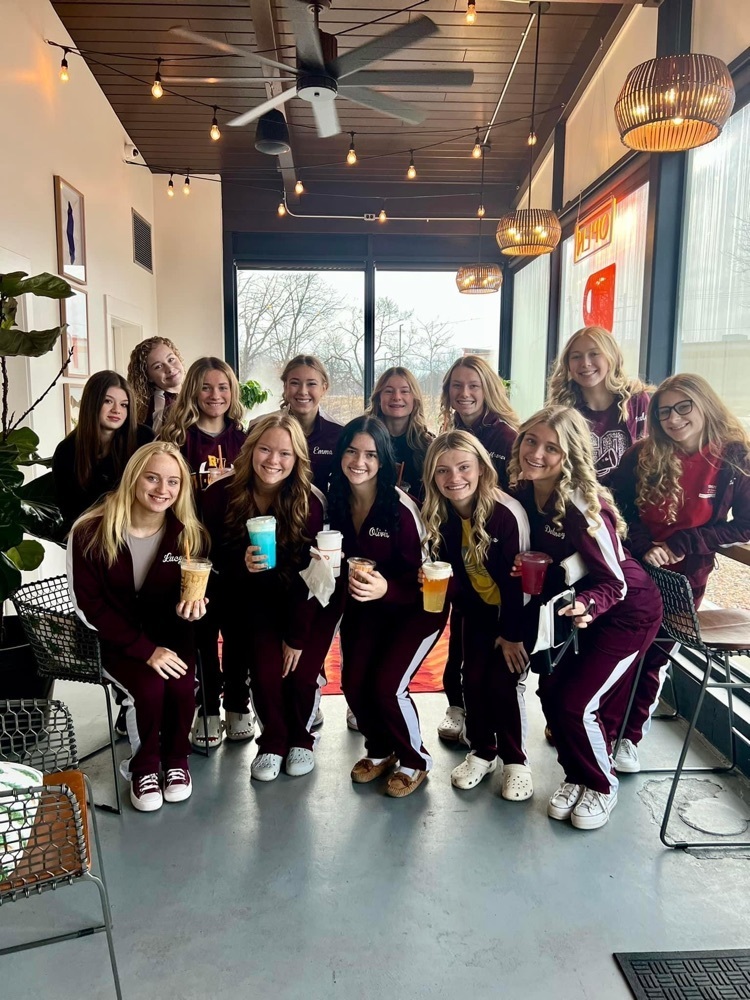 This Saturday, December 17th, the RW girls will get to compete in their first ever girls tournament! First matches begin at 9:00 AM at Erie High School. Go Cougars! #WeAreRW

Is second out of ten teams good for your first ever cheer competition? Asking for a friend. 🤔 Congratulations to the girls and coaches for an amazing start to the season and already qualifying for the state finals! #WeAreRW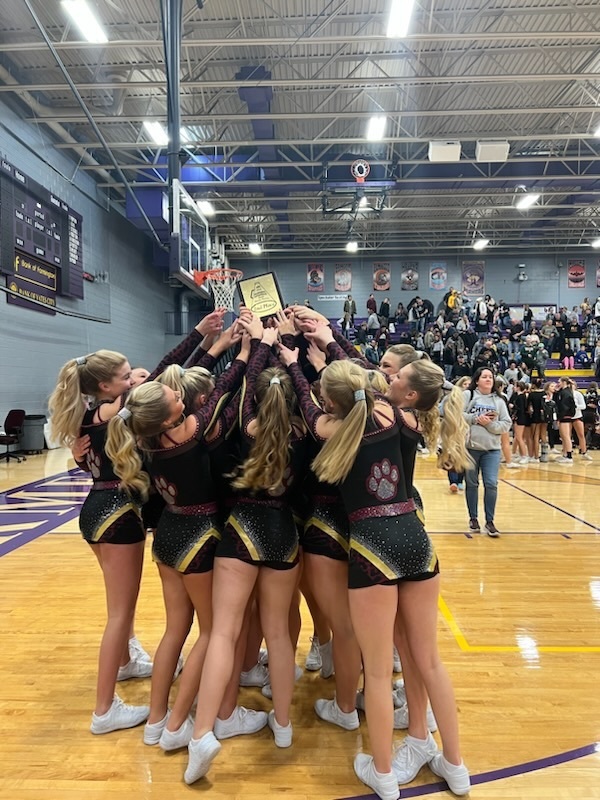 There will be a RW athletic booster club meeting this Thursday in Oneida in the LMC at 6:00 PM.

We are proud to honor the 2021 girls cross country sectional qualifying team at the January 2, 2023 girls basketball game here in Oneida. The banner has recently been hung in the gym. The ceremony will take place between the JV and varsity basketball games. The JV game starts at 6:00 PM. The team included: Emily Short Abigail Lee Carolyn German Emma Seiboldt Cadence Manning Abbie Reynolds Marin Shane Head coach: Valerie Furrow Assistant coach: Chris Johnson

Starting tomorrow, Wednesday, November 30th, Tickets for the ROWVA/Williamsfield Winter Ball will be sold during High School Lunch. ROWVA students will be able to purchase a ticket for $10 each. Bring your money starting tomorrow and you'll be first in line to attend the Ball. Then all you need is a date!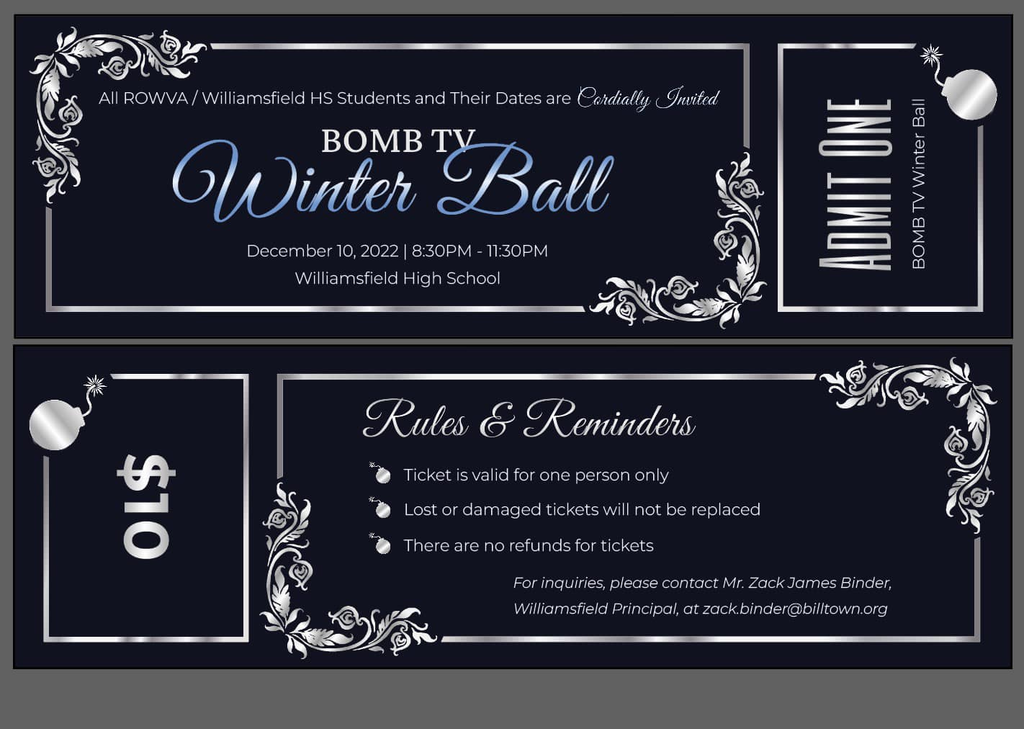 This week in RW athletics: 7th grade GBB plays Stark Co for a regional title Tuesday night in Brimfield at 6:00 PM. HS girls basketball hosts Rockridge in WIlliamsfield Tuesday night. JV starts at 5:30 PM. Wrestling has its first triangular of the year Tuesday night in Knoxville at 5:30 against the Blue Bullets and Peoria Manual. Wednesday they travel to Kewanee to face off against the Boilers and United at 5:00 PM. Saturday they head to Illini Bluffs for a tournament starting at 9:00 AM. The JV boys basketball team plays United at 5:00 in the ROWVA elementary gym. On Friday, they play at 3:00 against West Central. The varsity boys basketball team plays Galva tomorrow in Billtown at 8:00. Tuesday, they play Riverdale in Oneida at 8:00. Friday, they play West Central in Oneida at 5:00 before playing both Henry and United in Billtown at 1:00 and 5:30 PM, respectively. Good luck, Cougs!! #WeAreRW

Congratulations to the RW girls 7th grade basketball team on their regional win over Elmwood yesterday! They will play in Brimfield Tuesday at 6:00 against Stark County for the regional championship! Go COUGS! #WeAreRW

The RW girls basketball team defeated United and Bushnell this week. They will play Mercer Co tomorrow at 4:00 in Woodhull for 5th place in the RW/Ridgewood Thanksgiving Tournament. Good luck, ladies!

Here is an updated version of Meet the Cougars tomorrow night. It is still in Williamsfield. Go Cougars!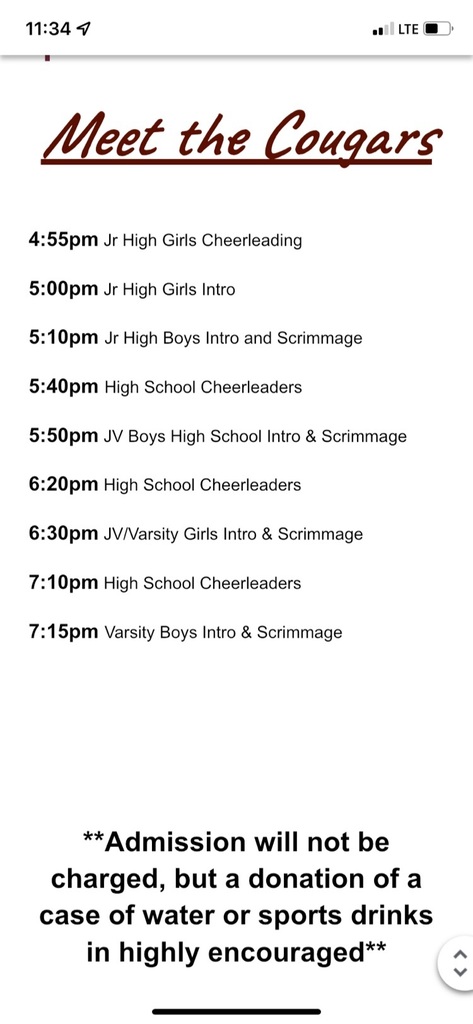 Here is the schedule of events for Friday nights' meet the teams in Williamsfield.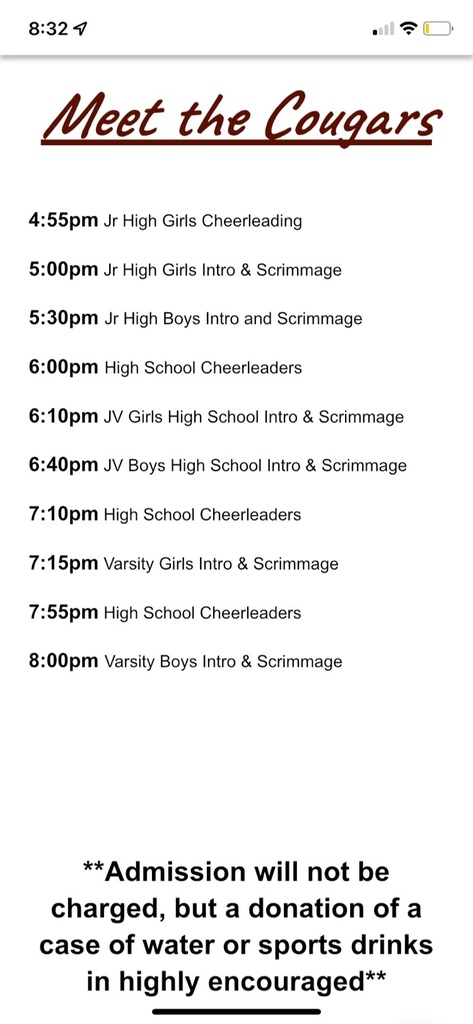 Reminder for those of you riding the fan bus tomorrow, it will leave from the elementary lot at 9:00 with the team, so please be ready to go by 8:50 AM.

Be sure to tune into 93.7 FM or 1400 AM tomorrow morning at 7:15 to listen to Coach Gullstrand talk about the Cougars and their upcoming playoff game! #WeAreRW