Starting tomorrow, Wednesday, November 30th, Tickets for the ROWVA/Williamsfield Winter Ball will be sold during High School Lunch. ROWVA students will be able to purchase a ticket for $10 each. Bring your money starting tomorrow and you'll be first in line to attend the Ball. Then all you need is a date!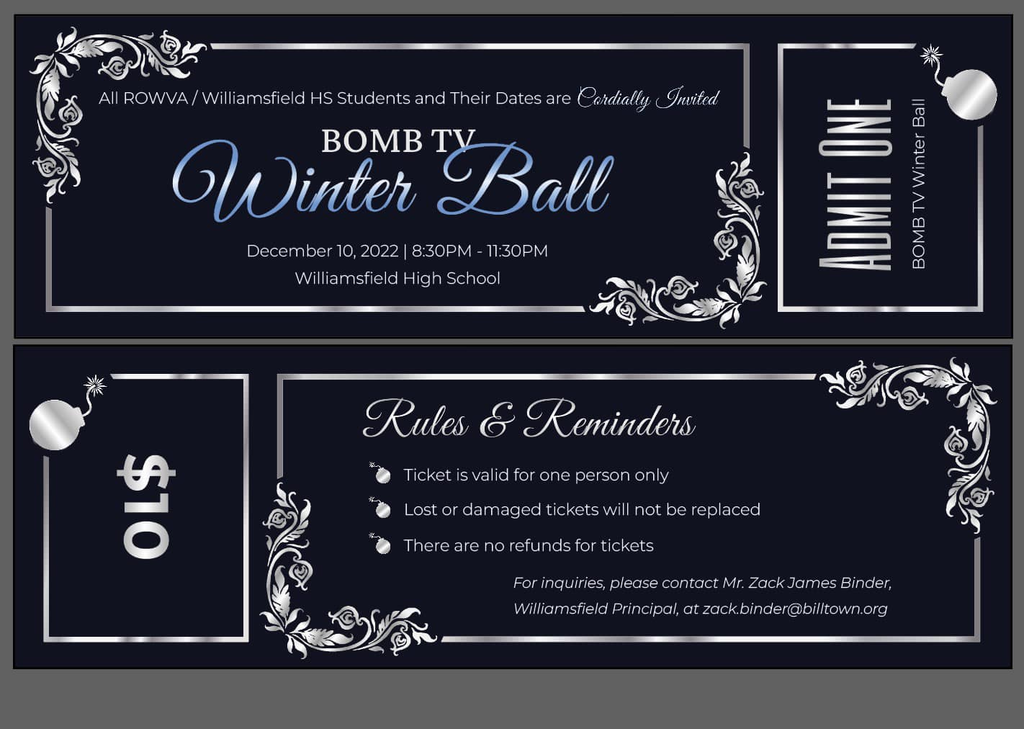 This week in RW athletics: 7th grade GBB plays Stark Co for a regional title Tuesday night in Brimfield at 6:00 PM. HS girls basketball hosts Rockridge in WIlliamsfield Tuesday night. JV starts at 5:30 PM. Wrestling has its first triangular of the year Tuesday night in Knoxville at 5:30 against the Blue Bullets and Peoria Manual. Wednesday they travel to Kewanee to face off against the Boilers and United at 5:00 PM. Saturday they head to Illini Bluffs for a tournament starting at 9:00 AM. The JV boys basketball team plays United at 5:00 in the ROWVA elementary gym. On Friday, they play at 3:00 against West Central. The varsity boys basketball team plays Galva tomorrow in Billtown at 8:00. Tuesday, they play Riverdale in Oneida at 8:00. Friday, they play West Central in Oneida at 5:00 before playing both Henry and United in Billtown at 1:00 and 5:30 PM, respectively. Good luck, Cougs!! #WeAreRW

Congratulations to the RW girls 7th grade basketball team on their regional win over Elmwood yesterday! They will play in Brimfield Tuesday at 6:00 against Stark County for the regional championship! Go COUGS! #WeAreRW

The RW girls basketball team defeated United and Bushnell this week. They will play Mercer Co tomorrow at 4:00 in Woodhull for 5th place in the RW/Ridgewood Thanksgiving Tournament. Good luck, ladies!

Here is an updated version of Meet the Cougars tomorrow night. It is still in Williamsfield. Go Cougars!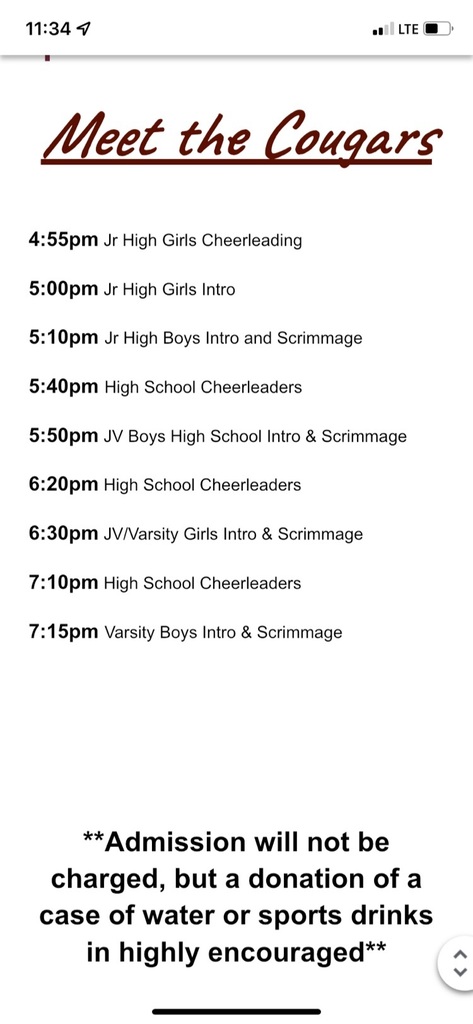 Here is the schedule of events for Friday nights' meet the teams in Williamsfield.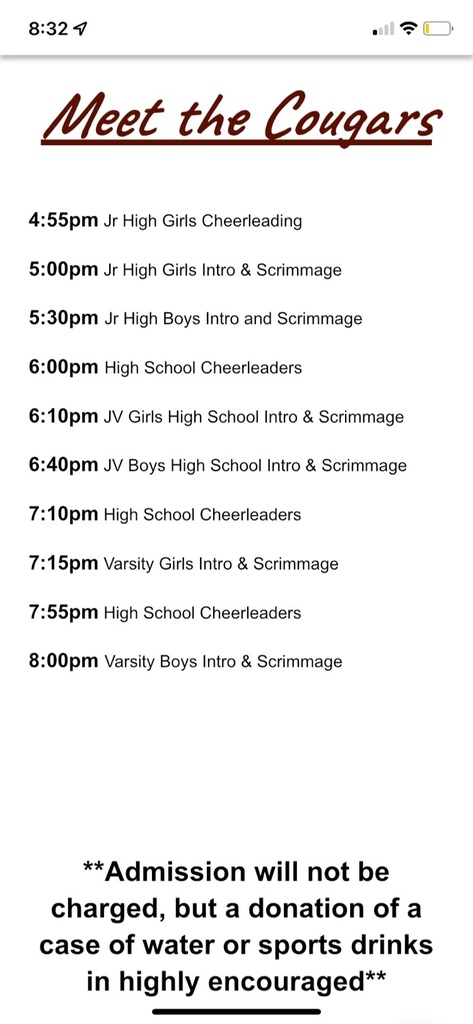 Reminder for those of you riding the fan bus tomorrow, it will leave from the elementary lot at 9:00 with the team, so please be ready to go by 8:50 AM.

Be sure to tune into 93.7 FM or 1400 AM tomorrow morning at 7:15 to listen to Coach Gullstrand talk about the Cougars and their upcoming playoff game! #WeAreRW


Congratulations to the following RW volleyball players on earning all LTC recognition: 2nd Team- Chloee Secrist 2nd Team- Sawyer Secrist 2nd Team- Angelina Adame The following girls earned all-academic honors: Angelina Adame, Carolyn German, Madeline Gonzalez, Natalie Gonzalez, Olivia Hopping, Elizabeth Johnston, Vivian Haynes, Jada Abraham, Ava Landon, Isabella Nelson and Ella Rigg. #WeAreRW

The following players also earned academic all conference: Graham Wight Gage Aldred Christian Doubet Jaxon Sharp Hunter Swanson Mason Stone Luke Nelson Riley Danner Spencer Brown Ayden Sanders Max Main Graham Wight and Luke Nelson have also earned academic all state! This means they were a first team all conference selection and academic all conference as well. Congrats, Cougars! #WeAreRW

The following RW Cougars received all conference recognition: 1st team RB: Bryan Bertlshofer 1st team OL: Graham Wight 1st team DL: Graham Wight Unanimous 1st Team LB: Luke Nelson 2nd Team OL: Brody Bledsoe 2nd Team WR: Adam Kohl 2nd Team Kicker: Kole Miller 2nd Team LB: Bryan Bertlshofer 2nd Team DB: Adam Kohl 2nd Team DB: Jaxon Sharp 2nd Team Punter: Jack Godsil Hon. Mention OL: Gage Aldred Hon. Mention WR: Lewis Sams Hon. Mention DL: Grant Erlacher Hon. Mention LB: Gage Aldred Hon. Mentio Returner: Jaxon Sharp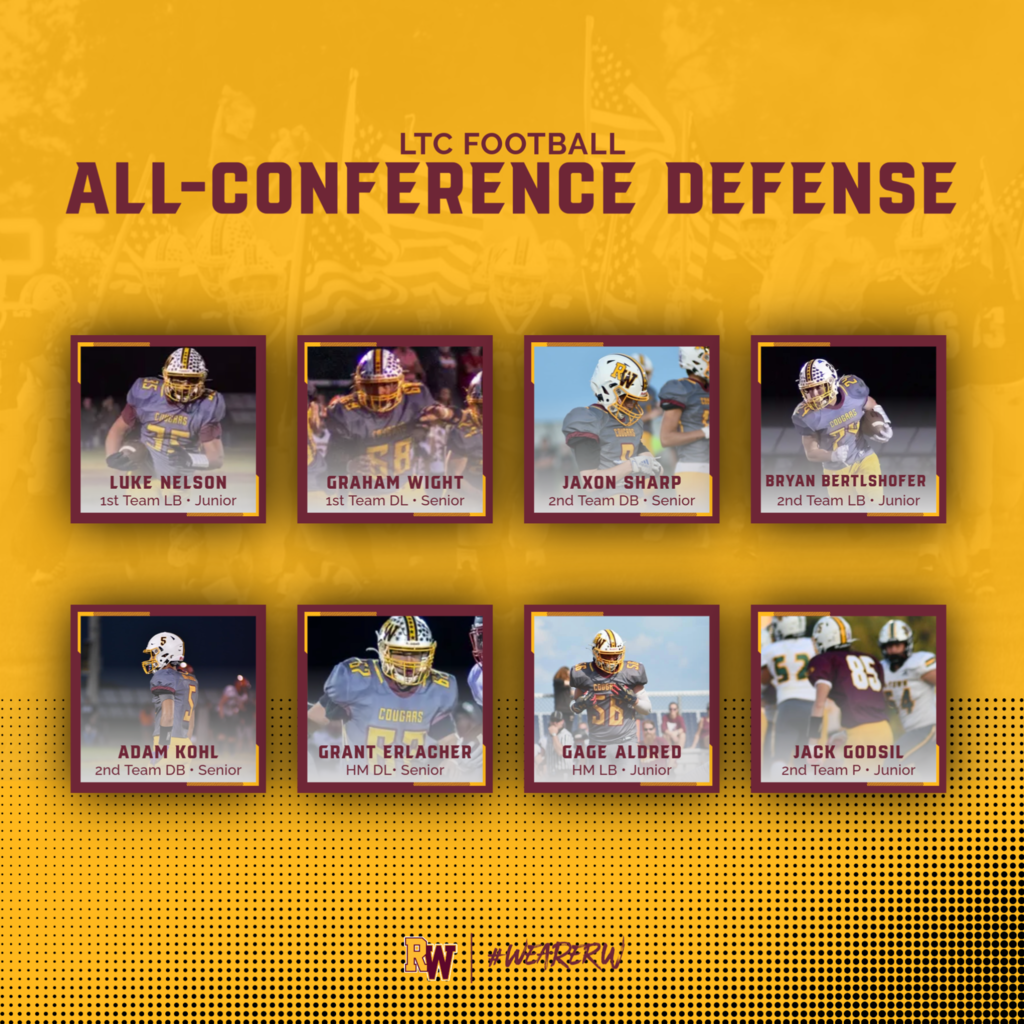 There is a ROWVA Williamsfield Athletic Booster Club meeting tomorrow, November 3rd at 6:00. The meeting is at Williamsfield High School. Booster club members, we would love to see you there!!

There will be a fan bus leaving the ROWVA elementary school lot at 9:00 AM for those wanting to go but not drive to Lena.

Please see the flyer and attached map for info on the send off for the RW football team Saturday morning. Send them off with signs, bells, banners and cheers! Show your Cougar Pride!! For those attending the game, feel free to join the caravan that will travel behind the bus!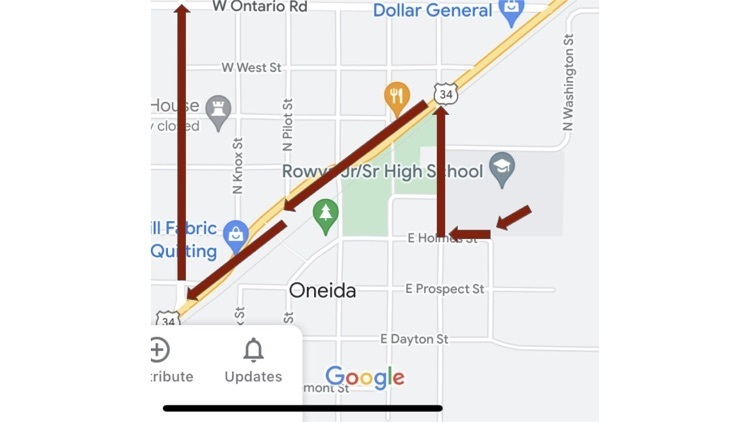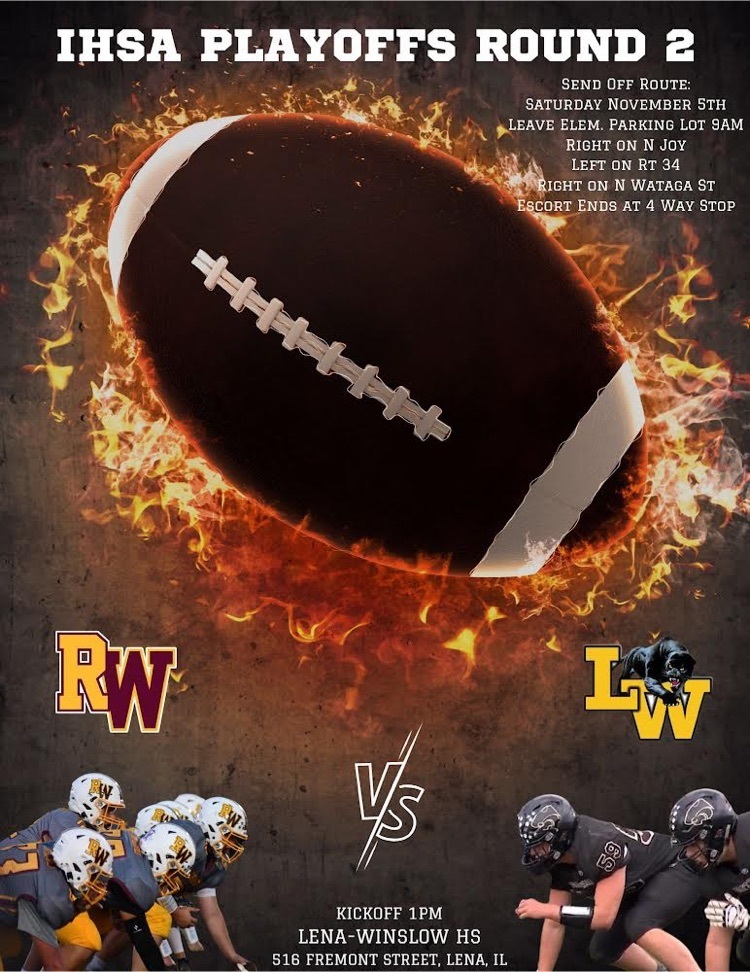 There will be a fan bus for anyone wanting to go to the girls regional championship volleyball game in Wethersfield tonight. Bus will leave the parking lot at 5:10. Must bring own money to get in the game and ride the bus back. See Coach Gullstrand with any questions. #WeAreRW

RW volleyball will play for a regional title tomorrow at 6:00 in Kewanee against Wethersfield!


IHSA 1A volleyball regional update: RW defeats Stark County last night to advance to tonight's semifinal game. The Cougars take on Peoria Heights in Wethersfield at 7:00 PM. Good luck, ladies!! #WeAreRW